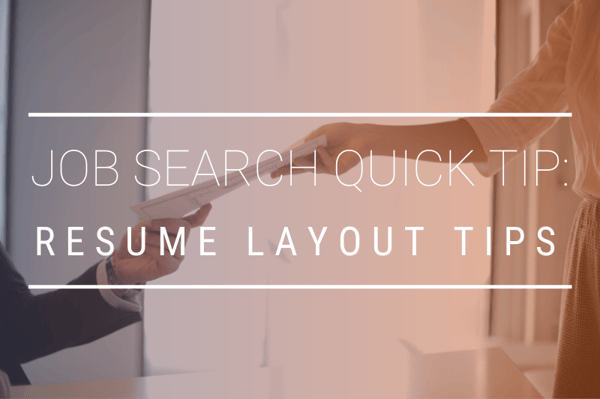 Your resume has a big job to do – namely, to help you get a job. While the content of your resume (your skills, education and professional experience) is key to making the case that you're a fit for a position, the way your resume is formatted plays a big role in whether an employer will absorb that content in the first place.
A resume is a functional document – you should strive for straightforward simplicity to ensure that your qualifications shine through. As TPD's Tavish Lehman shared in our article on resume mistakes to avoid: "Less is more when it comes to resumes. Often we see resumes that are extremely elaborate, making them difficult to follow. The more elaborate your resume, the more time recruiters and hiring managers will have to spend hunting to find the information that they are looking for."
Research has shown that employers spend fewer than 10 seconds looking at a resume before making a decision on who to advance in the hiring process. That's not much time to make an impression. And that's why making sure your resume is clean and easy to scan is so important.
Keep These Resume Layout Tips in Mind
Margins: When trying to fit a lot of information into just a page or two, it's tempting to play around with the margins to give yourself more room to work with. Careful! Increasing the width of your text reduces the white space and results in a less visually appealing, text-heavy document, which can turn off an employer before they even have a chance to read about all of your accomplishments. Sticking to a standard 1-inch margin all around will create a balanced, easy-to-read resume.

Font: There are a lot of fonts out there to choose from. We suggest using a standard one, such as Calibri, Arial or Times New Roman (if you're into the whole serifs thing). As for point size, go for something in the 10 to 12 point range for the body text.


Headers: Help employers quickly find the information they are looking for by using bolded headers to introduce each section of your resume. Also, you may opt to bump up the point size of your headers to make them stand out even more.


Bullets: Use bullet points to list things like job responsibilities and professional accomplishments. A bullet list breaks up blocks of text in your resume, adding a visual element and making it easier to scan. Each bullet should include no more than one or two succinct sentences – and whenever you can, use numbers to

quantify the information

they contain.


Consistency

: For readability (and to show off your attention to detail) it's important to use layout and formatting elements – font, bolding, italics, underlining, spacing and so on – consistently throughout your entire resume. For instance, if you decide to underline the first employer in your job experience section, make sure you do it with every subsequent employer.
(Check out more Job Search Quick Tips here.)
Looking for your next job opportunity? TPD is committed to helping people succeed. Join the

TPD Talent Community

,

find jobs

and check out our free

job seeker resources
.
Filed under Job Seeker, Job Search Quick Tips, Resume