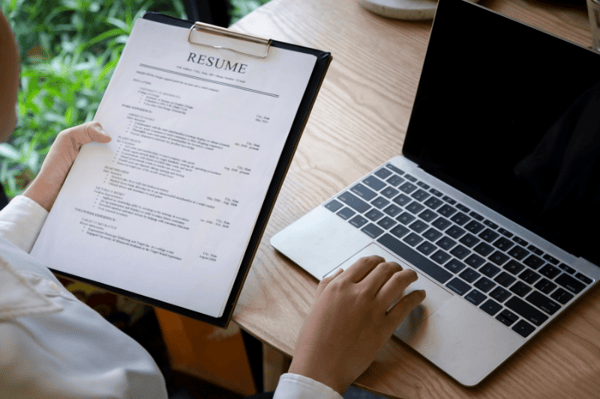 More than just a list of your work experience and accomplishments, your resume is a professional marketing tool. Its purpose is to convince a prospective employer that you may be the right person for a job. And it better do it quickly – after all, recruiters and hiring managers spend mere seconds screening each resume they receive to determine who deserves further consideration and who gets the "we've decided to move forward with another candidate" email.
Given the importance of a resume to securing employment coupled with the scant amount of time it has to make a good impression, it's crucial that your resume is targeted, succinct and error-free. We asked Tavish Lehman, TPD Workforce Manager specializing in business professional roles, to share some of the common mistakes he sees on resumes. Here's what he had to say.
Bad Formatting
"As a general rule, less is more when it comes to resumes," Lehman says. "Often we see resumes that are extremely elaborate, making them difficult to follow. The more elaborate your resume, the more time recruiters and hiring managers will have to spend hunting to find the information that they are looking for."
Your resume should be an easy-to-read document, he adds: "Stick to short sentences to describe your roles and use brief bullet points to highlight role-specific qualifications, contributions and achievements."
Wrong File Type
Recruiters and employers receive resumes in a wide variety or formats. But some file types become altered when uploaded into applicant tracking systems. To ensure that your resume format remains unchanged, try to submit it as a PDF, Lehman suggests. Also, the file name should include your full name, the position you're applying for and the date you're submitting an application.
Vague Employment Dates
"Often candidates do not include specific employment dates or ranges on their resumes. This makes it difficult for recruiters and employers to easily read your resume and assess your employment background," Lehman says.
Each role listed on your resume – even those reflecting movement within the same organization – should include a start date and an end date in a month/year format.
Not Labeling Volunteer Work
"While volunteer work is great to see on a resume and can be an asset in setting yourself apart from other candidates," Lehman says, "It is important that paid and unpaid work be differentiated on your resume."
One approach to listing volunteer experience is to add a separate section beneath your work experience. Also, bear in mind that the volunteer work you list should be relevant to the position you're applying for and should be presented in a way that highlights skills that the employer is looking for. If you're applying to be a veterinary assistant, for instance, volunteer experience at a local animal shelter would be relevant. On the other hand, volunteer work at a soup kitchen, while admirable, is not.
Including Irrelevant Information
A resume containing irrelevant or outdated information will likely be disregarded, Lehman says.
"Avoid including your age, photograph or marital status on your resume," he advises. "Hiring managers and recruiters don't expect this information on a resume in North America, and it can work against you as it increases the possibility of discrimination and unconscious bias. Unless it's relevant to the job, it doesn't belong on your resume."
Generic Resume Objective
"We see a lot of objective or goal statements that do not reference the role that a candidate is directly applying for," Lehman says. "This can be an immediate red flag for recruiters or hiring managers as it implies that you did not read the job description or research the company. It is important that if you include an objective statement, it is specific to the role that you are applying for."
(Instead of an objective statement, consider adding a summary statement.)
Looking for your next job opportunity? TPD is committed to helping people succeed. Join the

TPD Talent Community

,

find jobs

and check out our

job seeker resources
.
Filed under Job Seeker, Resume