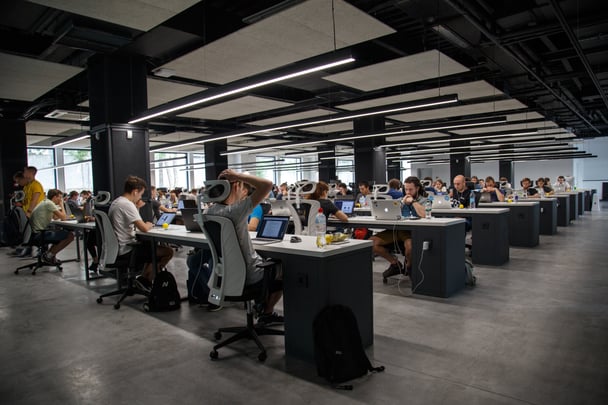 It's that time of year again when every person you encounter seems to be sniffling and coughing. When it's flu season, it's all the more important for HR representatives and employees to take the proper steps to ensure that the office promotes health and wellness. Otherwise, it may be tough to create a successful, dynamic team—as there won't be any workers left to be productive!
In order to achieve a healthy work environment, HR representatives can incorporate certain factors that will encourage employees to be well throughout the year. Many companies are already making strides to prioritize health in the office by focusing on ways to reduce the spread of concerns like illnesses, aches and pains—as well as stress and general dissatisfaction. For companies to have a workplace that encourages the staff to be healthy, the first step is to assess the office environment and then to establish more positive habits and values.
Does Your Office Encourage Wellness?
If you are an HR representative, ask yourself this question: how does your office support health and wellness? If you cannot immediately think of various ways that your work environment encourages healthy behaviors, chances are that you need to establish more opportunities for workplace wellness. You may want to begin by surveying the employees—does the office feel like a home away from home? Do they feel like the office is an overall healthy place to work?
With this knowledge, representatives can assess things like the ergonomics of the space. Studies in occupational safety and health suggest that 86% of workers experience some level of discomfort from office furniture or equipment. This means that HR departments should consider providing more ergonomic chairs, keyboards, and desks for the sake of comfort and wellness—which in turn will decrease the number of possible worker compensation claims.
Tips for Optimizing Office Wellness
Beyond the ergonomics of the office space, companies can also incorporate other simple tips to optimize a wholesome work environment. Some ideas that will help establish a healthier office for the benefit of all employees include:
Examine the indoor air quality to avoid aggravating allergies
Improve morale and visibility with better lighting
Use floor mats to avoid dirt, slippery floors

Seek more sustainable cleaning solutions

Restock the break room with healthy snacking options
Fight the flu by wiping down surfaces with sanitizing wipes
By following these guidelines after assessing the overall dynamics of the office environment, companies can better establish a healthy workplace that encourages wellness and productivity.
Filed under Expert Series