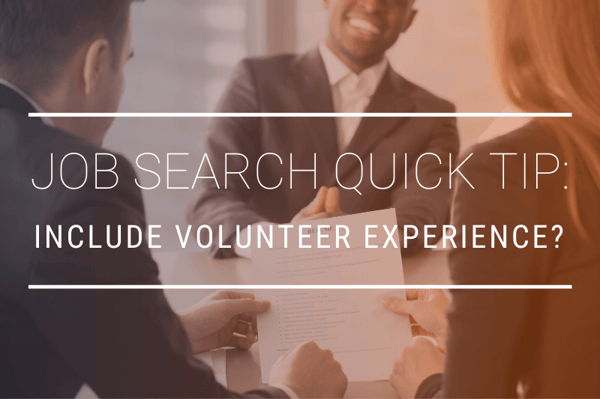 Should you include volunteer work experience on your resume? Let us answer that question with a few of our own:
Is your volunteer experience relevant to the position you're applying for?
Does it highlight skills and competencies that make you a fit for the

job

?
Does it include accomplishments that will impress a prospective employer?
Does it demonstrate that you've successfully taken on tasks and challenges – such as project management and leadership roles – that aren't reflected in your paid work experience?
If your answer to any of these questions is "yes," then you likely should include your volunteer experience. Whether it's paid or not, any work that positions you as a top candidate for a job belongs on your resume. And there are some career scenarios in which volunteer work can be especially beneficial, such as:
If you're a recent college or high school graduate without much paid work experience.

If you have gaps in your professional experience.

If you're trying to move into another field and you want to highlight transferable skills.
How to List Volunteer Work on Your Resume
So where on your resume should you list volunteer experience? There are a couple of approaches to consider.
If you're using volunteer work to bulk up your resume due to limited paid work experience or gaps in your employment history, consider adding it to the main work experience section alongside your paid work. Just be sure to indicate that it is volunteer experience.
However, if you already have several positions listed in your work experience section with no significant gaps, you can create a separate "Volunteer Work" section below your professional experience.
Regardless of its location on your resume, you should format your volunteer roles the same way you do your professional ones. Include the organization, the volunteer role, the timeframe of the volunteer work and bullet points listing duties and accomplishments.
(Check out more Job Search Quick Tips here.)
Looking for your next job opportunity? TPD is committed to helping people succeed. Join the TPD Talent Community, find jobs and check out our free job seeker resources.
Filed under Job Seeker, Job Search Quick Tips, Resume