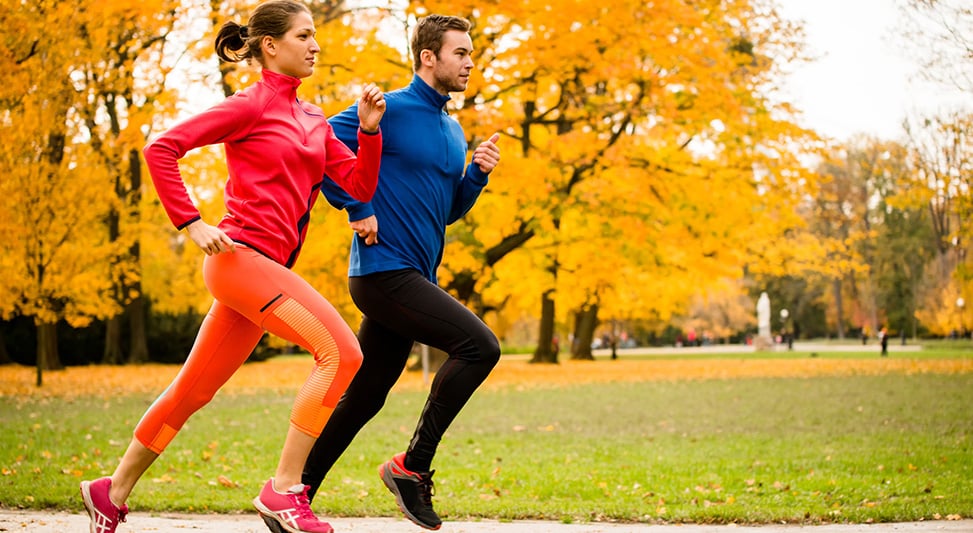 Falling leaves signal the departure of summer, and a transition back to the cool, crisp days of autumn. For a company, it usually means that employees are back from vacation, and the kids are back at school. While many welcome the cooler temperatures, this time of year can result in a few seasonal challenges. It's not uncommon to encounter coughs and colds in the workplace, travel turmoil due to bad weather, and an increase in leave requests for the upcoming festive period.
Fall can be quite a hectic time for employers, but there are a few things you can do to help keep your organization running smoothly and efficiently this season.
Safeguard Against Sickness
Sickness can strike anytime, but employees are usually more prone to coughs, colds, and the flu during variable-weather seasons. To avoid the spread of germs, it's a good idea to promote proper hygiene practices in the workplace, such as frequent hand-washing, dressing for the weather, the use of sanitizer, and sneezing or coughing into the crook of the elbow instead of the hands.
Another way to prevent workplace illness is to encourage employees to get an annual flu shot, if they're able. This encouragement could be anything from a simple email reminder, to offering reimbursement towards any fees associated with the shot, or even arranging for a health professional to visit the office and administer the vaccinations directly.
It would also be helpful to take a look at your sick leave policy, to make sure there are clear guidelines on who employees should contact if they're ill, and how much notice is required in the event of short-term absences due to sickness.
Employee benefits are another great way to help ensure your team stays in good health this season. At TPD, we're proud to be the first employment agency to offer employer-paid benefits for our temporary Fieldstaff. We believe in offering "the best of both worlds – the flexibility of temporary contract work AND the employer paid benefits of a permanent employee."
Brace for Bad Weather
As summer recedes, so too do those long days of sunshine. Unfavourable fall weather conditions can result in obstacles like unsafe driving conditions, road closures, delayed commutes, and possible school closures. As a result, employees may find it difficult to get to the office, or may need to take leave in order to look after their children.
Of course, employers don't want their team members risking their safety to get to work. There are a few flexible alternatives to consider in the event of weather-related absences, such as setting up remote work policies, or allowing employees to make up time at a later date.
Prepare for Leave Requests
The last quarter of the year may not be considered prime vacation time for some, but since autumn also signals the start of the festive season, with holidays like Thanksgiving, Christmas, and New Year ahead, managers will typically receive a lot of leave requests at this time.
In a previous TPD blog post, we talked about the importance of updating and reviewing employee leave policies ahead of an expected influx of requests. Many companies choose to grant vacation requests on a "first come, first served" basis, or may require a certain amount of notice before the start of the vacation.
Other options include offering employees the choice between taking time off at Christmas or at New Year, for example. In the event that an employer is unable to grant a vacation request during a certain holiday, some companies choose to offer that employee priority during another popular time frame, such as spring break. A comprehensive vacation tracker is a great tool for easily visualizing leave requests and used vs. unused vacation hours. TPD can provide recommendations for tracking tools suited to the size of your team.
It's also a good idea to stay on top of upcoming statutory holidays in your region, since long weekends often result in additional short-term leave requests.
Focus on Workplace Wellness
Darker, gloomier weather can make it difficult for employees to stay motivated and energetic. Allowing lots of natural light into the office or playing music (if permissible) can help brighten the mood in the workplace. Other ways to encourage employee wellness include optional short group exercises scheduled at convenient times, or even bringing in therapy dogs to allow your team members to take a "paws" in their workday.


As we move forward into the drizzly days of fall, proper preparation can help put your organization under an umbrella of efficient and effective operations. If you require assistance with getting your company ready to weather the colder weather, the team at TPD is happy to help. We can assist with everything from policy review, to providing temporary staffing coverage for expected or unexpected absences. Feel free to get in touch with us here, or give us a call at 1.888.685.3530.