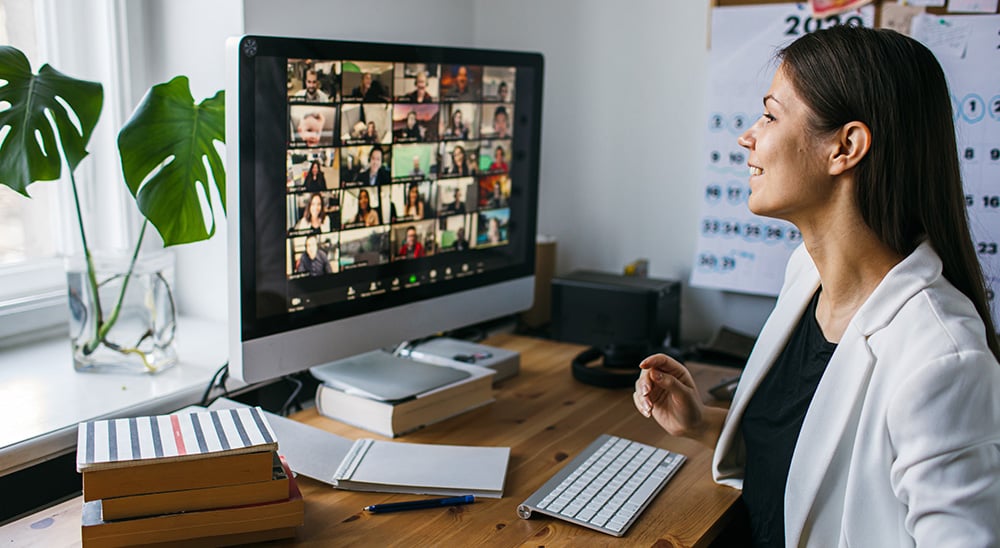 4-Minute Read

As businesses resume operations and recall employees, there are still many workers who feel uneasy about returning to a physical workplace. In order to ease these anxieties, TPD suggests implementing a hybrid work model, which combines in-office and from-home work for employees. This blog post shares valuable tips for successfully doing so and outlines some of the benefits of a hybrid model of work, including heightened productivity and safety.

---
With the arrival of the fall season, individuals are gradually beginning to return to some of our pre-pandemic routines and "norms," such as traveling to the workplace each day. Although restrictions have started to loosen, there are still some workers who feel uneasy about returning to the workplace amid the ongoing pandemic.

In fact, a study by Hibob Research discovered that 60 percent of survey participants were comfortable about the return to work, but 40 percent of employees still felt reluctant to do so.

Before implementing a full transition back to the office, HR managers should consider instituting a hybrid model of work, which can have various benefits for organizations during the pandemic.
Tips for Success
A hybrid approach to work involves integrating both in-office and remote work, providing a balance between the two.

Implementing a hybrid work model, however, varies depending on a company's specific needs. Some organizations may opt for a model that involves staggered shifts, where employees come into the office and leave at different times of the day, to minimize contact with colleagues. Other companies may prefer having a more set schedule for their team, where one group of employees is in the office while the rest work from home.

Communication is the key to success during all aspects of implementation – both before and after. In addition to taking operational needs into account, managers should ask for input from staff. This determines who, if anyone, wants to return to the office and helps you develop a customized model that works effectively and efficiently for the whole team.

Once a hybrid model has been implemented, communication should be frequent and easily accessible, to keep all employees up-to-date. With some employees working remotely and others working in the office, employers should also consider maintaining video calls for meetings so individuals who aren't in the office can still feel included.
Benefits of a Hybrid Work Model
Because it combines the best aspects of both in-office and remote work, this model of operation can have positive impacts on your business.
Culture
A hybrid work model can strengthen a company's culture, as it encourages work-life balance for staff and prioritizes their needs. This model of operation accommodates team members, allowing them to fulfill other responsibilities outside the job, such as caregiver duties. It also boosts inclusivity, as remote-work accommodations increase accessibility for employees with disabilities.
Efficiency
Productivity can also be heightened as a result. For in-office employees, the increased interactions and communication with colleagues can lead to strong collaboration and engagement. Employees working from home are also likely to be more productive, since studies have shown a link between stress and productivity, and the stresses associated with returning to the physical workplace and taking public transit during the pandemic are reduced for remote workers.
Safety
In addition, this work model promotes safety and eases the concerns of employees who are reluctant to return to the office. In a study of 3,500 workers worldwide, 81 percent of participants said they used public transit to commute to work, and of this group, 67 percent were "at least moderately concerned about commuting when they return to work during the pandemic." A hybrid work model allows those with anxieties about physically returning to the workplace to continue working from home, and it makes social distancing easier for in-office employees due to reduced numbers or staggered shifts.
Preparedness
Finally, a hybrid work model provides a company with the flexibility that is needed if a second lockdown occurs in the future. With a portion of the team already working from home, your business can adapt and make the transition to full remote work more easily.
TPD Can Help
If your organization requires assistance in developing and implementing an effective return-to-work plan, including a hybrid work model for your company's specific needs, TPD is here to help.

Feel free to reach us here, through email at covid19support@tpd.com, or by phone at 1.844.873.4745, and our qualified experts would be more than happy to help. For additional HR resources, visit our COVID-19 HR Support Centre.