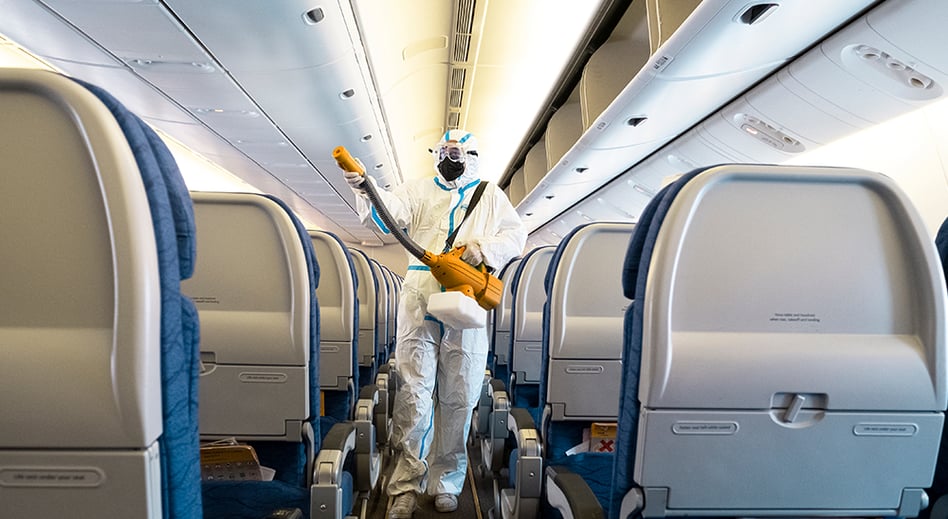 4-minute read

The COVID-19 outbreak has taken a toll on the aviation sector, with the roll-out of strict travel bans, leaving many employees laid off. As travel restrictions begin to lift, however, airline companies must develop effective return-to-work plans for recalling laid-off employees, ensuring employee health and safety with appropriate PPE and updated training and work policies, and increasing company-wide communications.


---

The novel COVID-19 virus has, without a doubt, changed the world of work. In particular, the outbreak has taken a substantial toll on the aviation sector – an industry that, as of 2018, directly employs 10.2 million workers worldwide. With the rollout of strict bans on non-essential travel in recent months, hundreds of thousands of airline workers have been laid off in Canada and the US.

Now that travel restrictions and lockdowns are gradually beginning to lift, airline companies have been able to rehire some workers. Canadian airlines, in particular, were able to do so with help from the federal government's wage subsidy.

As Human Resources teams within the aviation industry start to develop return-to-work plans for their companies, TPD has compiled HR tips and key considerations for effectively and efficiently operating during the pandemic.
Recalling Employees
For aviation companies that plan to recall their laid-off staff in the near future, HR managers should consider specific union rules that may apply as well as workers' personal circumstances – for instance, if they are immuno-compromised, have childcare responsibilities, or have transportation issues – when formulating a return-to-work plan. These HR considerations will ensure that your company remains compliant while also prioritizing employees' well-being and work-life balance.
Protecting Employees
During the current global crisis, the health and safety of employees and passengers should be the top priority.


Strengthening Safety Measures
New regulations now require that Canadian and American fliers – both aviation staff and passengers – wear removable non-medical masks or face coverings during travel. Aviation managers should provide their staff with the necessary personal protective equipment (PPE), including non-medical face masks or nose-and-mouth coverings, or "permit employees to wear their own when interacting with other employees or passengers whenever physical distancing of 2 meters cannot be maintained while on duty." Employees should also be provided with disinfectant supplies, including hand sanitizer, disposable gloves, facial tissues, and garbage bags.

Airlines should also conduct temperature screenings of passengers prior to boarding, to ensure that fellow passengers and crew are not at risk of contracting the virus. In Canada, temperature checks have become mandatory for passengers traveling by plane to, from, or within the country.

When it comes to training, aviation workers should be well informed of the elevated health and safety protocols. This includes how to handle body fluids onboard, how to dispose of waste, and how to clean and disinfect contaminated areas. There should also be guidance for self-quarantining practices and physical distancing measures, such as spacing passengers whenever possible, to follow social distancing.
Updating Policies
Current company policies should be updated to ensure the health and safety of the workforce. Businesses should look at adapting current work arrangements to enforce social distancing measures, such as staggered shifts or reduced hours of work for employees, with the fewest possible individuals in the workplace at any given time. If feasible, managers should consider expanding paid leave and healthcare coverage for their workforce.

In addition, confidentiality policies should be implemented to reduce any workplace stigma, discrimination, or exclusion that may arise when a worker gets tested for COVID-19 or receives a positive test result. These policies will also help with the implementation of testing and quarantine protocols.
Increasing Communications
In the midst of the COVID-19 pandemic, it is important for business leaders to stay connected with their staff and for HR managers to provide comprehensive updates on a frequent basis. In addition to alleviating stress amongst the workforce, clear communications will also reduce the spread of false information between colleagues.

Social dialogue, which has been described as "an effective and preferred means to achieving a feasible, successful and acceptable business model for the current aviation climate," will improve employee morale and strengthen the resilience of organizations.
Let TPD Help You
Despite these unprecedented circumstances, TPD will help your company tackle any challenges that may arise, drawing upon our 40 years of HR experience.

If your business in the aviation industry needs help developing a solid return-to-work strategy, enacting new safety protocols, or updating current work policies, feel free to contact TPD and we'd be more than happy to assist you with your unique HR needs.

You can reach the qualified experts at TPD here, through email at covid19support@tpd.com, or by phone at 1.844.873.4745. For additional HR resources, visit our COVID-19 HR Support Centre.
Filed under COVID-19