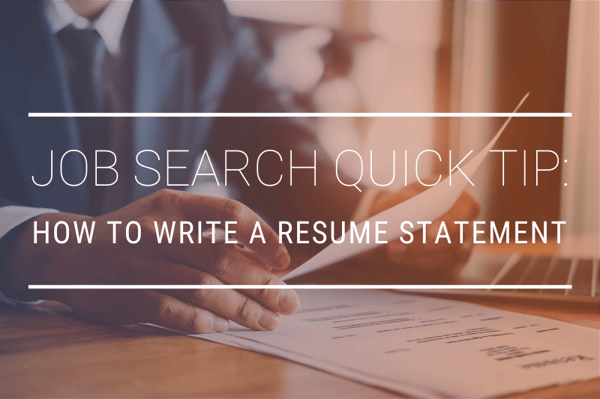 Long gone are the days of including an objective statement on a resume. After all, the objective of every resume the same: to get a job. These days, the real estate at the top of your resume is best used for a summary statement (also called a professional summary or a resume summary).
So what is a summary statement, and why does it belong on a resume? Simply put, a summary statement is a brief description of your professional experience and skills, and adding one to your resume can provide several benefits, among them:
It is an opportunity to quickly pique a hiring manager's interest in hopes they will give your resume a closer look (

studies

show that employers spend fewer than 10 seconds scanning a resume).
It allows you to strategically insert keywords from a job ad into your resume, making it better targeted to a specific opportunity.
Speaking of keywords, adding them to your summary statement as mentioned above helps optimize your resume for applicant tracking systems, increasing the chances that it will be seen by an actual person.
Resume Summary Statement Tips
The resume summary statement is a distillation of your skills, qualifications, experience and accomplishments that are most relevant to a job opportunity that you're pursuing. Here are some guidelines:
Your summary statement should be placed toward the top of your resume, directly below your name and contact info.
It should be a few sentences in length (no more than five).
It should focus on core strengths, skills and accomplishments relevant to the role for which you're applying.
Avoid adding common skills, such as proficiency with Microsoft Office.
Here's a summary statement example:
Senior Sales Representative with 16+ years of experience and a track record of growing sales volume, creating and executing business plans and fostering long-lasting customer relationships. Proven record of developing new client relationships and increasing customer retention to regularly exceed sales targets. Skilled communicator and negotiator dedicated to providing the highest level of customer service to capture new and repeat business.
Looking for your next job opportunity? TPD is committed to helping people succeed. Join the

TPD Talent Community

,

find jobs

and check out our free

job seeker resources
.
Filed under Job Seeker, Job Search Quick Tips, Resume