Motivated, productive, and engaged employees make business happen. Oftentimes a consumer will choose to purchase your product or service based on the employee who represents that product or service.

Employee engagement is one the secrets to a productive workforce, and as a result, a successful business as well. What is employee engagement? It usually refers to how engaged your employees are in their jobs. Are your employees engaged? That can directly affect your bottom line.

The next question to consider is: "what contributes to engagement in the workplace?"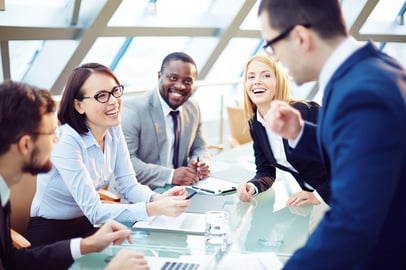 It's a myth that great employees are only motivated by money. Monetary compensation is important, but there is a litany of items that contribute to an employee's engagement. Interestingly, some are so fundamental that we miss them completely. For instance, do your employees feel:
Fairly and respectfully treated?
Valued and appreciated?
Recognized and possibly even rewarded for their work?
As an employer, it shouldn't take long to realize that if you wish to attract, recruit, and retain good employees, fair and respectful treatment is required. Employees who do not feel valued and appreciated will either contribute less effort as time goes on, or will leave for greener pastures where they will be appreciated.

In addition, everyone likes to have his/her achievements and efforts recognized. Even though personal satisfaction is usually generated from within ourselves, it is always more meaningful if someone else notices and shares the success. Enter: recognition and rewards.

Rewards can motivate and encourage employees to contribute to their own success and the success of your business. Remember, we're not talking big ticket items like a car or some trip to some exotic locale. In reality, employees are often delighted with a range of rewards that can be provided at little or no cost. Most importantly, ensure your program fits the culture and image of your company. The most effective reward and recognition programs have five key elements:
Achievable: Set achievable standards or goals. If it's unrealistic, it can be demotivating.
Objective: Tell employees what it takes to achieve a reward or recognition. The road to success should be clear.
Rewarding: Include rewards that motivate daily performance, such as a half day off, free lunch, or tickets to an industry event.
Timely: Waiting too long to deliver a reward or recognition will lessen the impact, but be aware of schedules when awarding time off.
Useful: Measure and reward behaviors that help to produce useful business results.
There are no firm rules about what to recognize. Here is a starting point for things you can recognize your employees for:
Productivity/quality
Customer service
Peer recognition
Superior performance or extraordinary achievement
Safety
Length of service
Typical rewards include: certificates, plaques, sporting or cultural event tickets, time off, or even a voucher for a free coffee and pastry. How about an informal thank you party with cake and cookies on a Friday afternoon? Alternatively, the senior management team could line the entrance mid-way through the busy season to greet each employee with coffee and donuts as they arrive. It's a sincere gesture to say "thanks" and "we know it's busy, but hang in there."

Remember, recognition and rewards need to be offered with sincerity and thoughtfulness. Recognizing employees is about giving thanks and credit where credit is due, and making those employees feel valued and appreciated for a job well done.

For a more in depth look at developing your human resources plan, progressive discipline, and talent management - Access TPD's HR Cycle E-Book below!

Susan Alley, VP of HR Services
Alley is a senior executive with significant consulting experience in human resources in both unionized and non-unionized environments. Alley has provided strategic and practical solutions to internal and external client corporations in a variety of industry sectors including financial services, hospitality, real estate, retail, healthcare, manufacturing, government, professional services and high tech. Her strong leadership, communication and problem solving skills, coupled with a broad range of experience, provide a strategic and disciplined approach to customer service, business, and human resources management.
Filed under Creating Your Dream Team 101, Expert Series, HR Trends