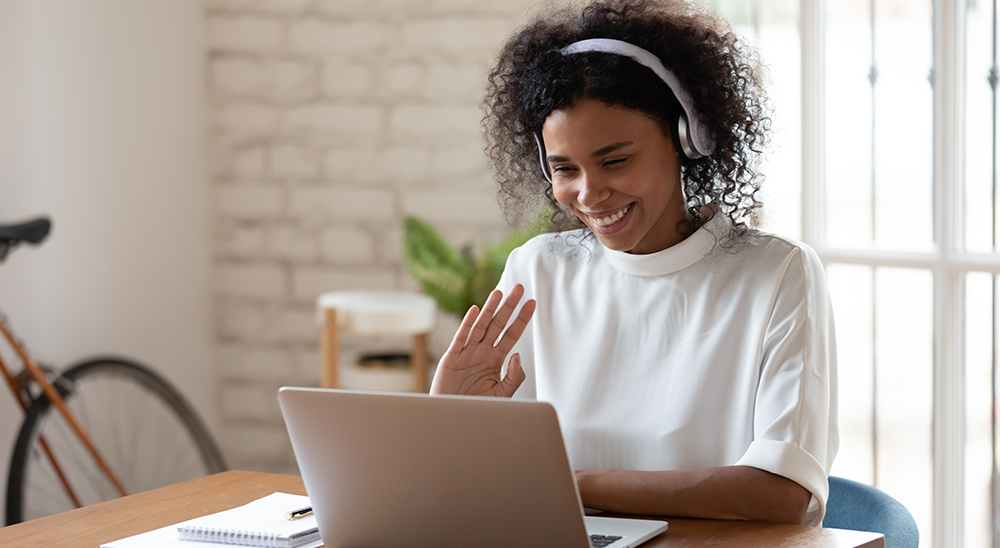 5-minute read

There has been a shift from in-person interactions to virtual ones in recent months, with work meetings and job interviews now taking place via videoconferencing. TPD offers 10 simple tips for a successful video interview, from having a backup device set up to looking directly at the camera lens, plus one bonus post-interview tip that involves follow-up.


---

During the past few months, there has been a seismic shift from in-person communications to virtual interactions due to social distancing measures. As a result, many common workplace practices, such as company meetings and job interviews, have now gone digital.

For job seekers, searching and interviewing for new employment opportunities can be daunting. However, doing so through a video call during the pandemic adds a new set of challenges to an already stressful situation.

To help job candidates tackle these challenges, Yasir Khan, Talent Acquisition & Human Resources Coordinator at TPD, shares 10 valuable yet simple tips for nailing your video interview, as well as a bonus tip for being memorable post-interview.
1. Have a Backup Device
Virtual tools, including videoconferencing applications, provide many organizational benefits, including the ability to complete tasks by staying connected while physically apart. However, one downside to these tools is the inevitable technical difficulties that can ensue, which oftentimes arise at the most inconvenient of times – for example, during a video interview.

To avoid any mishaps resulting from technical difficulties, you should download your videoconferencing software onto your computer as well as a backup device, such as a smartphone. If anything goes awry on the computer, then you have a backup device ready to go during your interview.
2. Set Your Phone to Silent
Interviewees should use a computer or laptop for video interviews. However, if this is not possible and you need to use a cellphone, be sure to set your phone, including all background notifications and applications, to silent.

Make sure the phone is on silent mode rather than vibrate mode, because vibrations are still audible and can be quite loud during video calls
3. Be Aware of Your Background
Find a setting with a neutral background where you can sit comfortably during the video call. Distracting backdrops can steer the interviewer's attention away from you, so choose a static background, such as a plain wall or a bookshelf. A neutral setting ensures that the focus remains on your responses to the interview questions.
4. Avoid Using Notes
Although it might seem like a good idea to have notes ready, Khan suggests you avoid using notes, because they can hinder your ability to make a natural connection with the hiring manager.

Notes can distract you and make you look unfocused, especially if you peek at them throughout the interview. Reading from notes can also make you sound robotic and unnatural when speaking.

Instead of using notes, prepare in advance. Research the role, search for commonly asked interview questions, plan your own questions, and do a practice run-through beforehand.
5. Look at the Lens
"Unlike an in-person interview, you can't actually make eye contact with the hiring managers. But the next closest thing you can do is make eye contact with the camera lens," says Khan.

People tend to look at the other video participants on-screen during video calls, but this can make it seem like you are looking off-screen and not making eye contact. To appear engaged during the conversation, look directly at the camera lens every time you speak or respond to a question.
6. Look Professional
First impressions play a surprisingly large part on whether you get a role or not, so be sure you are dressed for the part and groomed accordingly.

Even though interviewers only see a portion of you on-screen, you still want to come across as professional and put-together. By dressing up, you show the hiring manager not only that you are committed to the role but also that you take the job-application process seriously.
7. Be Attentive
It is important to stay focused on the interview and the questions being asked. So, avoid having extra tabs on your computer browser open. Clicking on other items on-screen or viewing pop-ups reduces your attention during the interview, and you don't want to get distracted from what the hiring manager is saying.
8. Maintain an Appropriate Camera Distance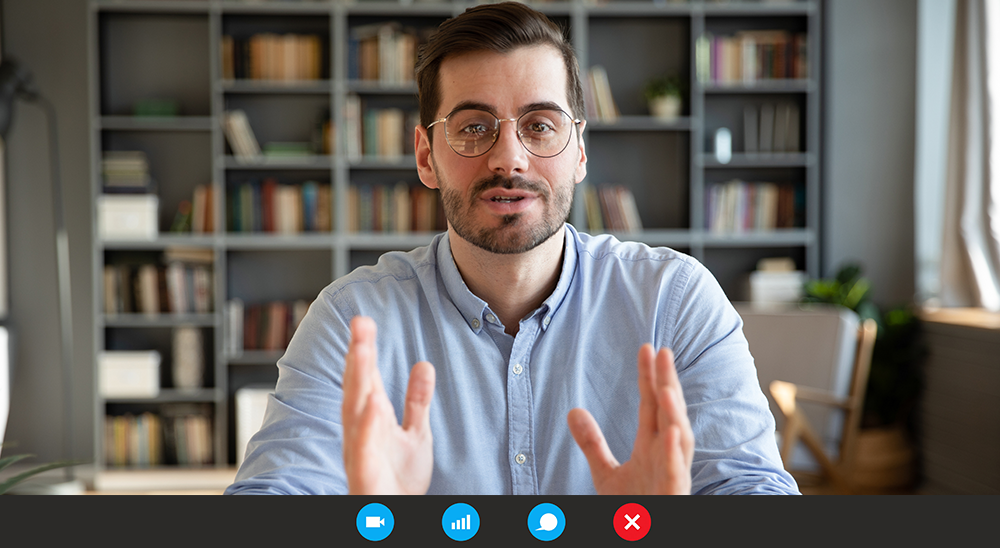 When setting up your computer or smartphone, make sure there is an appropriate distance between the camera and you. Avoid having the camera too close to your face.

Your torso should be visible, so that interviewers can see your hand gestures. Be sure to view yourself on camera beforehand, so you can make any needed adjustments prior to the start of the interview.
9. Be Personable
During an interview, just be yourself and try your best to have a natural conversation with the hiring manager. This shows an interest in the person you are talking to and allows you to learn more about the company's culture.

Don't be afraid to ask questions. Khan suggests asking, "What it's like to work on their team [or] what it's like to work in the company." These conversations determine if it will be a good match for both parties. "It has to be a good fit for them, and it has to be a good fit for you as well," says Khan.
10. Avoid Distractions
As with any video meeting, you should sit in a quiet space that is free of distractions for both the interviewer and you. In addition to having your phone and other technological devices on silent, make sure the television isn't running or other people in your household don't wander in the background during your interview.
Post-Interview Tip
Once the interview is over, you can breathe a sigh of relief. However, do not forget to send your interviewer a concise follow-up email to thank them for their time and reiterate your enthusiasm for the role. If there was something interesting that was discussed during your interview, you can briefly mention this too.

This step is often overlooked but is tremendously important. It not only displays your appreciation and passion for the position, but it also makes you stand out from other candidates and possibly even increases your chances of moving on to the next stage in the application process.
TPD Can Help
If you are a job seeker who is currently searching for new and exciting employment opportunities, then look no further than TPD. We are dedicated to finding each candidate the perfect role, one ideally suited to their experience and in a company that is the right fit for them.

You can reach the qualified experts at TPD here, through email at covid19support@tpd.com, or by phone at 1.844.873.4745. For additional HR resources, please visit our COVID-19 HR Support Centre.
Filed under Interview, Job Seeker