TPD's President Paul Tournier first connected with our founder, Leslie Meingast, at a Diversity mentorship program. Their relationship grew over the course of the 12-month program, during which Leslie shared the joys of entrepreneurship with Paul. Excited by the potential he saw in TPD, Paul joined the organization as President in 2012 and took over full management of TPD three years later, when Leslie retired from her role as CEO.
TPD has undergone a significant transformation since Paul took the reins. One of the key changes he's overseen is a shift in our culture.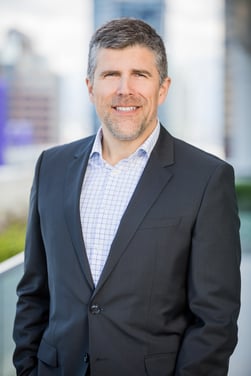 "We moved to a more transparent and inclusive culture, with more freedom for employees, allowing them to move and go into the direction they'd like to grow in," he says.
In addition to changes in our culture, TPD's transformation has been fueled by "our technology shift from a true brick-and-mortar to a virtual organization," Paul says. "We've come a long way since 2013."
As TPD has evolved over the years, so has Paul's role as President. He recalls that when he first joined the organization a lot of his time was spent on operations and driving optimization into the business.
"When we were ready, we started the rebranding process," he says, "and, with that, the cultural change based on a new set of values and expectations for people in the organization."
His major milestones at TPD include that rebranding project, which involved consolidating some 30 brands into a single brand: TPD. Paul also implemented systems that created a more inclusive and common approach to communication and management, such as the Vision/Traction Organizer.
Paul also highlights the successes of TPD employees.
"Our people have significantly developed and grown over the years," he says. "Due to our size, we are able to have young people come in with great potential who fast track into senior positions and thrive."
When asked what he likes most about TPD, Paul says, "I really enjoy the people I work with, our team here at TPD. I also feel strong about the purpose of the organization - to help people succeed in their careers, both internally and externally. At the end of the day, that's what I enjoy most - being a part of that experience."
On behalf of the whole TPD Team, we want to thank you for your leadership, Paul. You have inspired us to be constantly innovating, moving forward, and dreaming big. Thank you!
Filed under TPD News