Meet Lear Chapman. Before becoming a core member of the TPD Team, Lear worked as one of our Fieldstaff. Today, he is our Accounting Supervisor!
Lear remembers the days before TPD switched to a paperless system – all over the office, he recalls, there were "boxes and boxes of paper." He also recalls the former strict dress code that required all employees to wear navy blue suits (it seems like a lot of longtime TPD'ers are happy that we've changed that policy!). Another change that Lear has witnessed – a change that he says he appreciates the most – is TPD becoming a more flexible organization.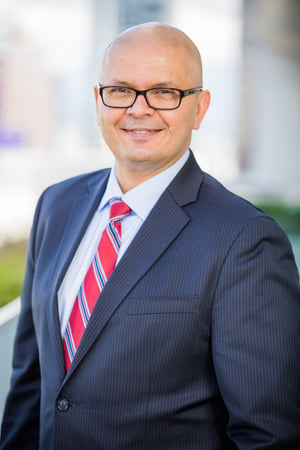 "The ability to work remotely, with flexible schedules, means I'm able to get more work done AND spend more time with family," he says.
Lear says a major career milestone during his time at TPD was helping move the Galt Foundation, TPD's nonprofit organization that provides employment opportunities to individuals with disabilities, to a completely paperless system.
"When I started at Accounts Payable, there were 60 checks per week for the Galt Foundation," he says.
Between managing these cheques and mailing issues, Lear knew there had to be a better way.
"We started putting everyone on autopay and EFT," he recalls. "This project started in mid-2016, and by 2018, we had completely transitioned to paperless checks, saving time, costs, and stress!"
What does Lear love most about working at TPD?
"The work culture – it's very multicultural and diversified. TPD allows us to work freely, and I have great relationships with my coworkers!"
Thank you for sticking with TPD for all these years, Lear! We appreciate all your hard work!
Filed under TPD News