When Kelsey Boyd joined us in 2012 as our Marketing Manager, we were still known as The Personnel Department. Early in her tenure, she approached our President Paul Tournier with a big idea, which resulted in her leading a year-long rebranding project that transformed us into TPD.
"I was maybe six months into the job, still very green, and I had no idea just how much of an 'ask' I was making," she recalls.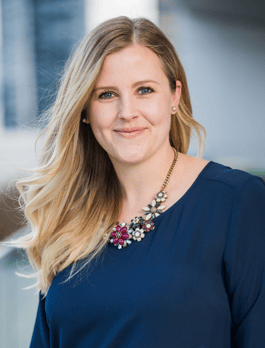 "But my ambition level was met with support and enthusiasm."
Following the rebrand, Kelsey worked on digitizing our processes. This included taking us from inbox recruiting and receiving paper resumes in the early 2000s to a cloud-based, modern Applicant Tracking System, allowing our Recruiting and Staffing teams to more efficiently find the best candidates for our clients. This sparked her transition into a more IT-focused role, where she continued implementing new systems to modernize our operations. From marketing automation software and a new CRM, to a VOIP phone system and online invoicing and payment solution - Kelsey has been focused on deploying tech-enabled solutions that allow us to better serve our stakeholders.
"With each new system implementation, I learned a lot more about the business and end-to-end operations," she says.
Her transition to Vice President of Operations naturally followed, and she began working closely with Paul as the organization's Integrator. In her current position, Vice President of Business Transformation, Kelsey continues to take TPD to new levels.
"I am working with our stakeholders and vendors to define our future technology roadmap. Today, I am leading the project team that is supporting TPD's business transformation," she says. "We're constantly evolving, looking to continuously improve. Open minds, ambitious team players – always looking to make each day, month, year better than the last."
Like many longtime TPD'ers reflecting on their time with the company, Kelsey noted the end of our former dress code, which required everyone to wear navy blue suits, as a memorable milestone in the organization. But more significant than that, she says, is how our overall culture has changed to be more flexible in support of work-life integration.
In addition to the transitions that have occurred at TPD during her time with us, Kelsey has had many changes in her personal life as well.
"In the last 8 years, I've had two kids – my most important accomplishments and ongoing 'projects' to manage!" she says. "Becoming a parent has had a profound impact on my career. I think I've been more successful - compassionate, communicative, efficient, and results-focused - because I'm a mom. While it takes a village (BIG thank-yous to my husband, parents, and childcare providers!), I do not think I'd be in the same role or as successful had I gone through the transition to parenthood with another organization. TPD has been flexible and supportive as I've transitioned out on maternity leaves and transitioned back into new roles after having each of my kids."
"We've come a long way; our business model has evolved, our brand has changed, and most significantly, our culture has shifted," she says. "I am proud of the organization we have grown into and look forward to what we will become."
Thank you for your years of hard work, Kelsey! We would not be the organization we are today without your drive and dedication.
Filed under TPD News