When Erinn Mclaughlin discovered TPD through a temporary position moving office furniture, he had no idea he'd still be with us seven years later. But his professional demeanor and hard work on the temporary job prompted TPD's Staffing Manager to invite Erinn to join our Sales Team.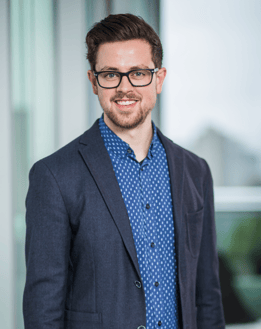 After some time at TPD, Erinn was offered a role as Staffing Manager in Calgary.
"I was excited to jump in headfirst and never looked back – especially when I learned you could fly fish in the Bow River, which was three blocks from the office," he says. "The idea of going down to the river in my business clothes and fishing during lunch breaks and after work was irresistible, to say the least."
One of Erinn's most notable experiences while working with TPD was when he was tasked with hiring for a major hockey game in Vancouver. TPD had committed to staffing more than 150 people for serving and concession stand positions for a single day. Erinn says the challenge forced him to step up, take over the project, and accept the responsibility.
"It was an experience that forced me out of my comfort zone and to grow in my career," he recalls.
Eventually, Erinn made his way back to BC, where he is now an Account Executive. He says he appreciates the work-life balance that TPD offers. It's allowed him to travel and work in a variety of locales, including Kelowna, Vancouver, Calgary, Fernie, and Mexico. More than that, though, Erinn says it's TPD's people and values that make it such a great place to work.
"I love the people, the diversity, and the uniqueness of everyone who makes up our teams," he says. "It's been amazing working with and getting to know such a variety of people over the years, and I feel like I would not have learned and grown as much as I have without their influence."
Thank you for being a part of the TPD team, Erinn!
Filed under TPD News