Elena Romero first joined TPD in 2008 as one of our Fieldstaff; she wanted to gain business experience before heading to the British Columbia Institute of Technology to study Human Resources.


"I did my research, and TPD was highly recommended as a great firm to partner with," she says.
Elena made a great impression during her temporary assignment, and after she finished her degree she was recruited to a permanent role as a TPD Talent Scouts.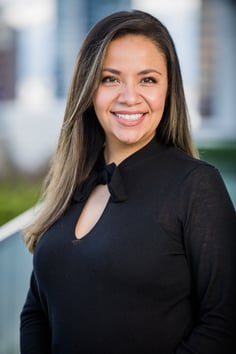 "My career has grown exponentially," she says. "I think I've been promoted or held a new position at least every two years."
Just as Elena has seen her career at TPD change and develop over the years, she's seen many changes in the organization itself.
"There is no way to describe the change that wouldn't be an understatement, she says. "In my time I have seen a new owner, new brand and name, new systems – many times over, new locations, and a new mission, vision, and values. Change is the one true constant at TPD and I am proud of the way we have responded to changes in the market and the world of work."
Despite all the changes, however, she says the core of who we are has remained the same: We're here to help people succeed and help organizations perform.
One of the things that has helped Elena thrive at TPD is saying yes to all the opportunities and challenges that come her way. Among the things that she is most proud of are being part of critical transformations at TPD, creating internal tools and training materials, and getting to hire and mentor other TPD'ers who go on to accomplish such great things.
When asked what her favorite part of working at TPD is, she says: "Hands down, the people who I am privileged to work with."
Thank you so much for your many years of hard work, Elena. We love working with you, too!
Filed under TPD News