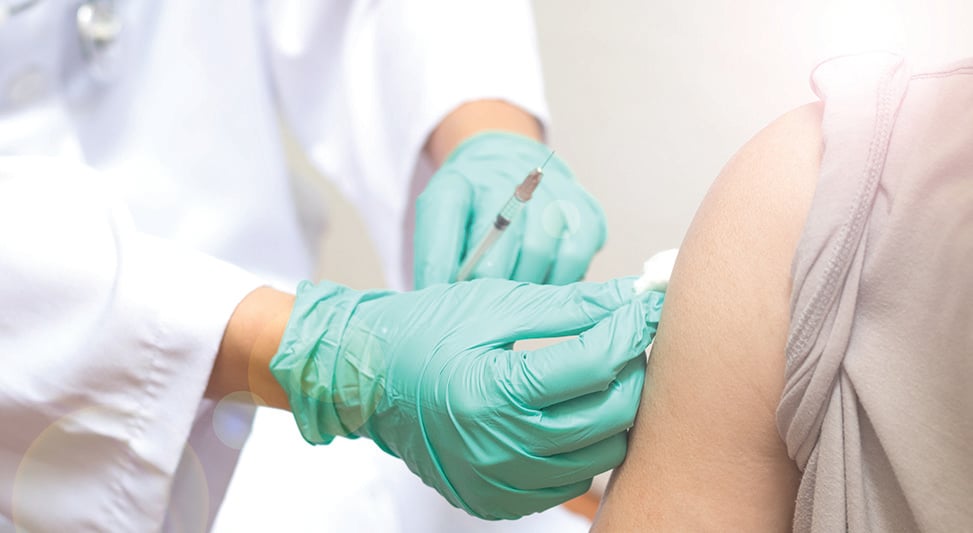 Author Malcolm Gladwell compared influenza to a biological weapon, in that the disease is highly contagious, highly unstable, and kills up to half a million people per year, with an annual average of 3,500 of those deaths happening in Canada.
The government has programs to immunize the elderly, children, and immuno-compromised, but it falls to corporations to protect their workers. The good news is that businesses can benefit greatly in fighting this global scourge, and that the battle need not be onerous if workplace flu vaccine programs are planned effectively.
Sick-Roll Time Bomb
It has been estimated that influenza costs the economy half a billion dollars on an annual basis due to lost work time. Approximately 10 to 20 percent of the Canadian population is infected by the flu each year and that roughly translates into 7.5 million workdays lost annually. Currently only 38 percent of adults get the shot, but the Canadian government wants to achieve 80 percent vaccination coverage by 2025. That's where encouraging flu shots in the workplace can make a significant difference.
Educating Employees
There is no shortage of science-based, myth-busting information online that counters misconceptions around immunizations. It's important to educate employees about the benefits and drawbacks of the flu shot, so they can make an informed decision. A 2019 London Drugs poll found that among those who don't intend to get the shot, reasons given include a belief that healthy people don't need the flu shot, that the flu shot can cause negative side effects, and that it is unnecessary, "because they are not around many people or vulnerable people." One way to encourage employees to consider the flu shot is to remind them that it can have a positive impact on everyone around them, including friends, family, and coworkers.
On-Site vs. Free Range
A clinic hosted at the workplace gets better participation than encouraging employees to go get their own shots. One company asked its 550 employees: If your employer did not provide an on-site flu clinic would you have sought out a flu clinic on your own? The answer from 35 percent of the workers was no. Many employees have the intention of being vaccinated on their own time, however, other priorities outside of the workplace can prevent this from happening.
Mandatory vs. Optional
Mandatory vaccination policies are rare outside of the healthcare industry, and it is often controversial when employees are mandated to get flu shots. In 2012, healthcare workers in BC were the first in the country required to either get influenza vaccinations or wear masks when treating patients. The BC Nurses' Union has been fighting the policy ever since. In Ontario, vaccinate-or-mask policies are in retreat as the Ontario Nurses' Association has won two separate arbitration cases since 2015. A more effective approach to promoting flu shots can be done through education and voluntary workplace health initiatives rather than through a punitive approach.
Develop a Health-Focused Culture
Workplace vaccination programs can also be a gateway to other wellness initiatives. Deliver a good experience to employees on shot day with healthy post-injection snacks, goodie bags, friendly interdepartmental competitions, prizes, etc. Creating a positive experience around workplace health initiatives such as the flu shot is a great way to encourage participation in other wellness programs.
Call for Back-Up
Robust participation may reduce the spread of certain influenza strains, but companies are always going to have absent employees, especially during the cold-and-flu winter months. TPD can provide temporary staff to cover any shortages.
And because autumn is the calm before the storm, it is also a good time to update sick leave policies and related categories such as critical illness, long-term illness and injury leave. For more tips on how to build a healthier company, feel free to get in touch with the experts at TPD. You can reach us here, or by phone at 1.888.685.3530.