Shortages in North America's skilled labor talent market have gained a great deal of attention in recent years. A 2012 report from the US Council of Advisors on Science and Technology stated that over the next decade, one million additional Science, Technology, Engineering, and Mathematics (STEM) graduates will be needed to meet demands in the US economy. Canada, Australia, Germany, China, Brazil, and India have all expressed similar concerns surrounding skill shortages.
In the Canadian trades sector, the common warning is that there will be a growing need for more tradespeople due to both a combination of economic growth and an aging workforce. According to B.C. Jobs Minister Shirley Bond:
"There are a projected one million job openings by 2020 [in B.C.] and we know that even if every eligible British Columbian was trained, we still wouldn't have enough workers to fill all of the openings."
Different approaches are being taken to circumvent the skills shortage. In the European Union, a Blue Card Visa is being introduced to bring skilled workers into the EU. Similarly, in the US, companies like Facebook, Microsoft, and IBM, are lobbying to boost the number of H1-B visas, temporary immigration permits, from 65,000 to 180,000 per year to meet their tech talent needs.
However, varying reports are surfacing, calling into question the reality of the perceived skill shortages. In a 2013 report by the Institute of Electrical and Electronics Engineers (IEEE), there is an apparent disconnect in the federal messaging surrounding the shortage in skilled workers, specifically STEM graduates, and the actual amount of work available. The report claims that the nature of STEM work has changed over the last decade. STEM workers are now employed for budgeted projects and contracts instead of obtaining long term employment. According to the IEEE report, this has caused a disconnect in the expectations that employers have for entry-level employees and has impacted the training that they are willing to provide.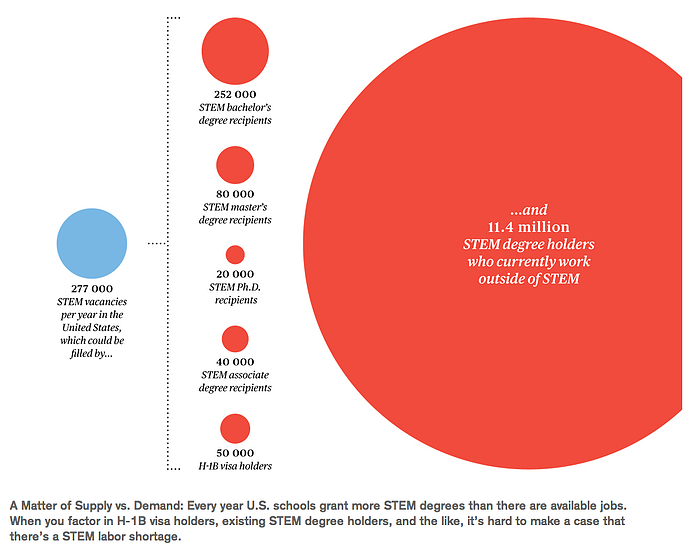 Similarly, a report from Canada's Parliamentary Budget Officer, entitled Labor Market Assessment 2014, suggests that there is no significant labor or skills shortage in Canada. The findings of this Canadian report contradict the federal government's position that jobs are going vacant due to a lack of homegrown skilled employees.
"There is," according to the report, "little evidence to suggest a national labor shortage exists in Canada, although there appears to be regional and sectoral pockets of labor market tightness." The report identifies the Atlantic provinces, Ontario, Manitoba, Quebec, Alberta, and British Columbia as having a job vacancy rate at or below pre-recession levels, and an unemployment rate at or above pre-recession levels. Additionally, according to the 2006 Canadian census, only approximately 30% of engineering graduates worked in an engineering capacity.
Considering this information regarding the quantity of skilled graduates that exist in the market and are working outside of the STEM field, we can see that the changed nature of skilled labor has been of benefit to employers. Unlike in decades past, employers seldom offer generous education and training benefits to employees to keep their skills current. As such, the IEEE has found that when layoffs occur, those employees become technologically obsolete. To address this shortage, employers can focus more on building up young talent and providing more training for their existing workforce to ensure maintenance of the skills market.
For organizations experiencing a shortage in skilled labor, an often overlooked solution is using a staffing or recruiting firm. TPD leverages a rigorous screening and assessment process to ensure that all Fieldstaff and referrals we make are qualified, competent, and a cultural fit with our client's organization.
If you want to implement a development and training program in your organization, Contact TPD Consulting today to build up the talent you already have!