In celebration of International Women's Day, we are honored to share the inspiring story and a few tokens of wisdom from our founder, Leslie Meingast.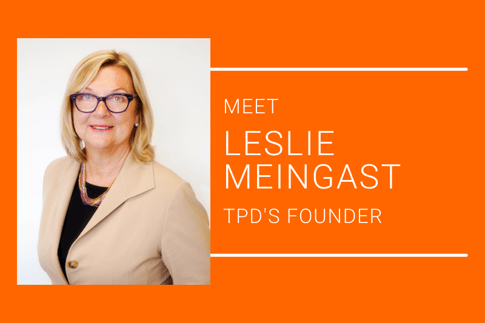 Leslie Meingast has long been inspired by strong women. Her earliest role model was her grandmother: "She transferred her sense of responsibility for the care of all those around her to me," Meingast, the eldest of five siblings, says.
Then, when she was in the 9th grade, Meingast drew inspiration from Indira Gandhi, the first prime minister of India. She recalls that there was a poster of Gandhi in her typing class that bore the caption "Can you type?"
"I got the message and never told anyone that I could type," Meingast says, "which kept me out of those early secretarial pools and sent me on a path to management."
These early experiences and role models laid the foundation for Meingast's future as a leader in business. "My path to leadership was predetermined," she says.
Meingast founded TPD in 1980 to create the best possible recruitment experience for both clients and job seekers. From the beginning, TPD has focused on quality, retention, and putting people first. "We built TPD on three keys of trust and reliability: Be on time, do what you way you are going to do, and say please and thank you," she says.
TPD's growth and longevity have proven the viability of Meingast's vision. Just six months after our founding, TPD opened our second location and then expanded internationally a short 4 years later. And about two decades ago, Meingast founded the Galt Foundation, a staffing company dedicated to expanding employment opportunities for people with disabilities.
Over the decades, we have weathered challenging times – including multiple economic downturns and the current pandemic – and have continued to thrive, continually improving and expanding our workforce solutions and, in the process, winning more than 10 Consumer Choice Awards for Business Excellence. "I am humbled and grateful for all the shoulders I am standing on to beat immeasurable odds and be in the 2% club of ability to survive, thrive and ensure succession," Meingast says.
To those looking to grow a successful business, Meingast says: "Reputation is everything." Also, she adds, upholding your organization's values is key, whether you're just starting or you've been around for decades.
"I risk and trust every day that decisions and actions, large and small, support the founding values, which are as relevant today as they were 40 years ago," she says.
When it comes to personal development, Meingast places great importance on self-improvement and learning from those who have gone before you.
"Practice your craft until you are an expert," she says. "Find a mentor, preferably someone 10 to 15 years older, who has been successful in business and learn as much as you can. Read and study to create dimensions in your personality. And, most importantly, practice laughter and gratitude daily."
And her advice to women seeking success: "Actively listen, support each other and pull each other up. Remember that in business and life we are here to solve problems not make problems. Everything is a choice, how we get up in the morning is how we get up in life."
Happy International Women's Day!
Filed under Insider, Career Chat, Interview, TPD News