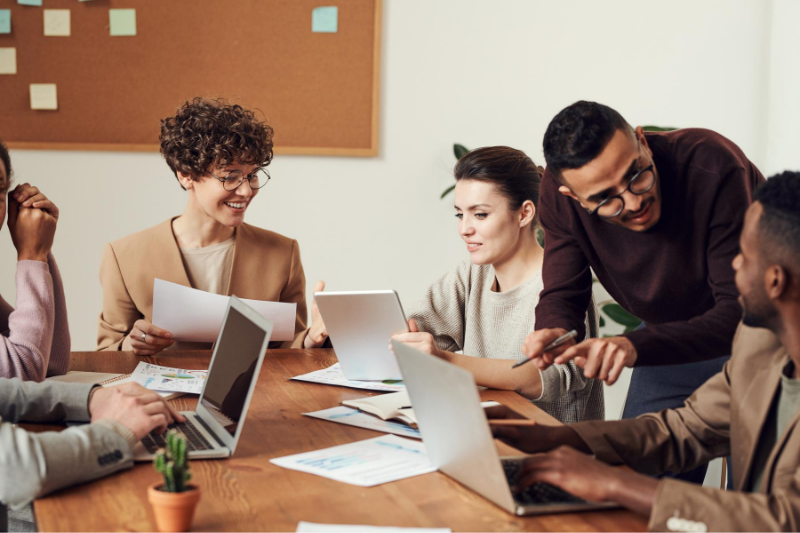 Many organizations strive to create a diverse workforce. Not only does it feel "right," research has shown a correlation between diversity within companies and higher financial returns, among other benefits. However, there may be an unseen force working against that goal during the hiring process: implicit bias, which stems from attitudes and stereotypes that can unconsciously influence how we make decisions. Implicit bias – which is based on things like age, appearance, ethnicity, gender – can result in the hiring of inferior candidates and overlooking candidates who are more qualified. Don't let implicit bias stifle your efforts to build a diverse team. Check out these strategies for minimizing bias when you're hiring employees.
Avoid Loaded Language in Job Ads
Building a diverse workforce starts with having a diverse candidate pool. But the way you write your job ads may be working against you. Research shows that job ads that are heavy on masculine language – words like "competitive," "rock star" and "aggressive" – reduce the number of female applicants. Likewise, the overuse of jargon in ads – especially those for entry-level positions – can discourage promising young people from applying. You can address these issues by using straightforward, neutral (or, at least, balanced) language in your job ads to attract a wider range of candidates. When in doubt, get a second opinion from someone else who can offer a different perspective (or use a free gender decoder tool).
Limit Your List of Qualifications
Including an extensive list of qualifications in a job ad also can deter talented candidates from applying. Writing for Harvard Business Review, Tara Sophia Mohr mentions a Hewlett Packard report that found that women apply for a job only if they meet 100 percent of the listed qualifications, while men will apply if they meet just 60 percent of them. With that HP stat in mind, Mohr surveyed more than 1,000 people, asking them exactly why they decided not to apply for a job when they didn't meet all of the qualifications. The majority of female respondents said they didn't apply because they thought they had to meet all of the requirements to get the job, so they didn't want to waste their time. Fewer than 10 percent said that they didn't apply because they thought they couldn't do the job well.
"In other words," Mohr writes, "people who weren't applying believed they needed the qualifications not to do the job well, but to be hired in the first place."
While it may be tempting to include a wishlist in your job ad of every "nice-to-have" that your dream candidate would possess, you may very well be shutting the door on other talented candidates who could bring value to your organization. Instead, include only a shortlist of the core competencies required for success in the position. You can use the rest of the ad to sell the job and your organization – talk about your great company culture, work-life balance, career development opportunities and diversity. There's plenty of time to explore a particular candidate's "nice-to-haves" later through screening and interviewing.
Consider Blind Resume Reviews
Resumes contain information about a person's experience, skills and education that is crucial to deciding whether they should be considered for a role. But other information found on resumes – names, addresses, graduation dates – don't really speak to a candidate's ability and may trigger implicit biases. For instance, one study found that fictitious resumes that used the names Emily Walsh and Greg Baker received more callbacks from employers than resumes that used the names Lakisha Washington and Jamal Jones. The researchers also found that resumes that listed a candidate's residence as being in a wealthier area also received more callbacks. Graduation dates are another piece of information that could cause an employer to make negative assumptions about a candidate based on their age.
To guard against resume-related bias, consider blind resume reviews. That entails removing personal and other identifying information from a resume and focusing only on the information that is relevant to the position. There's software available that can scrub potentially bias-inducing information, or you can go low-tech and have someone manually redact the info before passing the resume onto the recruiter or hiring manager.
Use Structured Interviews
While many employers favor a freewheeling, trust-your-gut job interview style, it has been shown that structured interviews significantly reduce the risk of making a bad hire. Asking candidates identical questions and creating a consistent scoring system for each question helps you objectively evaluate multiple candidates based on their ability to perform the job successfully.
And it minimizes bias, Harvard Kennedy School's Iris Bohnet writes.
"While it's exceedingly difficult to remove bias from an individual, it's possible to design organizations in ways that make it harder for biased minds to skew judgment," she says. "We should stop wasting resources trying to de-bias mindsets and instead start to de-bias our hiring procedures."
Have a Diverse Hiring Team
In addition to using a structured interview process, you should seek to bring diverse voices from within the organization into the hiring process. Having a diverse hiring team acts as a check against potential bias issues and brings different experiences and perceptions into the mix. Also, having a diverse panel of interviewers can make candidates more comfortable (leading to a more productive interview) and it sends the message that the organization truly is committed to building a culture of diversity