On Sunday April 27, 2014, hometown hero Rachel Cliff won the Women's Division of the Vancouver Sun Run 10K with a time of 33:14. Despite being born and raised in Vancouver, BC, this was Cliff's first time running the iconic Vancouver race. Cliff had both athletic and personal reasons for entering the Vancouver Sun Run.
It's important that a middle distance athlete be comfortable over a wide variety of distances. In order to run your best 5km, you need the cardiovascular strength to run a good 10km. From a personal standpoint, as a Vancouver runner, it didn't seem right that I'd never done the Sun Run before! After watching the race last year, I identified it as a goal for this year and have been working towards it ever since.
Cliff, who is working towards her thesis for her Masters in Public Health in Occupational and Environmental Hygiene, is also working towards qualifying for the 2016 Summer Olympics in Rio de Janeiro. With two large objectives on the horizon, Cliff is no stranger to goal-setting and identified three key components to setting oneself up for success.
1. Set Your Sights
When you are identifying your goals, start with the bigger long-term result you want to achieve and dream big. At the start of each training season, Cliff and her coach will ask themselves the following check-in questions:
What has worked in the past?
Where can improvement be made?
What is/are the big goal(s)?
What intermittent goals need to be set on the way to achieve the ultimate goal?
It is important to allow for conditions and variation in setting your goals. When setting time goals for races, Cliff will set two quantitative goals: the first is for optimal conditions, the second takes poor conditions into consideration. For example, Cliff's optimal goal for the Sun Run was to finish the race in under 33:00, but she would have been satisfied with anything under 33:30. Allowing for the windy, slippery conditions faced by Sun Runners, Cliff considers finishing with 33:14 a win.
2. Break it Down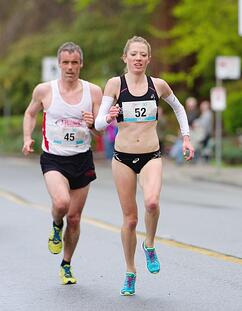 Thinking of your big goal can be overwhelming, so it's important to break it down into benchmarks and intermittent goals. What benchmarks do you need to hit week-by-week to make sure you're on track? The idea is to remove the mental duress of hinging everything to your big goal so you can focus on your performance and development in that particular week.
It is then important to monitor your progress consistently. With weekly and monthly reflection, you can evaluate your performance trends and reevaluate goals where necessary. As Cliff explains:
Benchmarks and constant re-evaluation are just as important as the training itself - you need to always look back and make sure you're on the right track. And shift your perspective if required, so that every failed attempt at a goal is seen as a learning opportunity.
3. Get Support
Working towards large goals can take up a lot of time and energy, and it is undeniable that having a strong support network can help you mitigate the stress that comes with them. Having flexible supervisors, strong mentorship, and an emotionally supportive personal network makes it far easier to devote the necessary energy and attention to achieving your goals.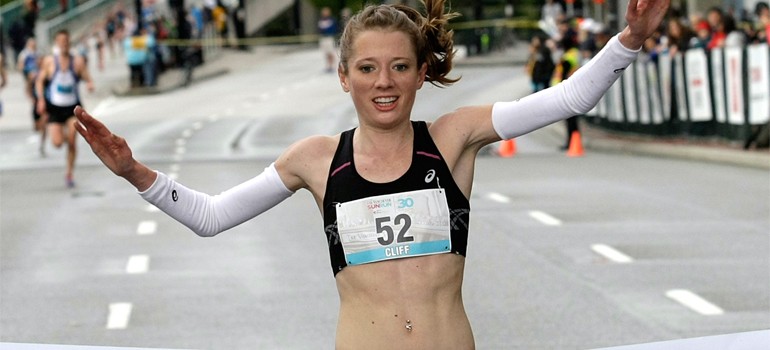 With the Sun Run over, this summer, Cliff will be working towards her thesis and improving her 5km and 1500m times. "In order to balance these two focuses, I try to break my day into bite-size pieces and focus on one task at a time. Most importantly, I need to be realistic about what I can accomplish in a day so as to avoid burning out or being unhappy."
Achieving these short term goals will help her reach her long-term goals of completing her Masters and qualifying for the 2016 Olympics in Rio de Janeiro. These aggressive goals will take hard work, focus, and commitment. But as with all of her training, Cliff is focusing on one week at a time. "At the end of the day, I can only do what my body will let me, and it's important that I focus on controlling the controllable and enjoying the process!"
For help with goal-setting, benchmark evaluation, and performance review programs for your organization, please reach out to TPD today!

Filed under Career Chat, HR Trends