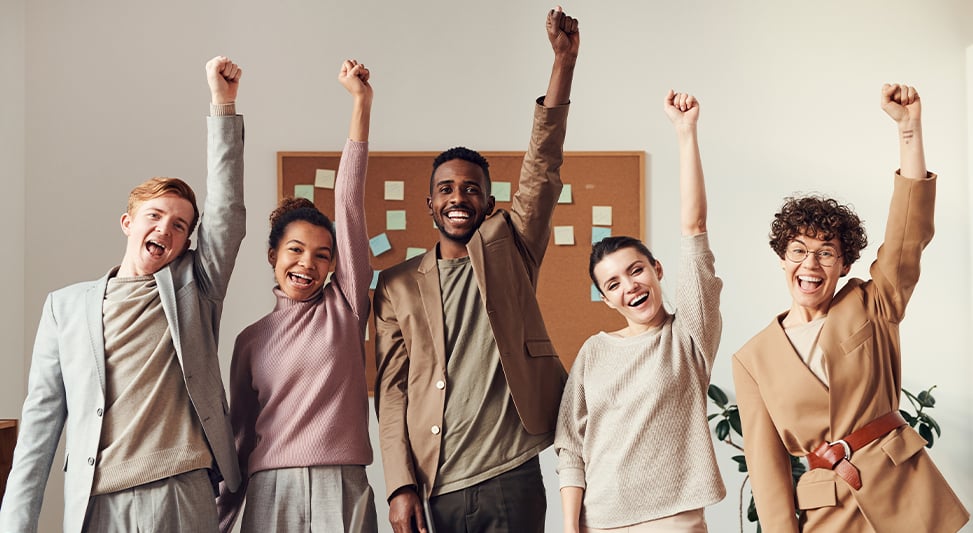 There is no doubt that diversity and inclusion can have a lasting impact on a company's success. While there have been increased attempts by organizations to implement more gender equality in their work environment, it's evident that disparities still exist in the workplace, particularly relating to hiring practices and promotions.

Recent studies have shown that the "broken rung" on the ladder to top management roles – and not the glass ceiling – is the biggest obstacle women face when it comes to career advancement. The "broken rung" is a phenomenon that results in fewer women advancing to management positions, which causes the pool of potential candidates for top managerial roles to consist of fewer qualified women.

To ensure overall organizational success and effectively utilize the talent of every employee, it is essential to repair the "broken rung" by taking steps to promote gender diversity and equality at every level of the workplace.
A Diverse and Inclusive Culture Starts at the Top
In order to achieve gender diversity in the workplace, it is important that diversity and inclusion be deeply rooted within a company's culture and values. And this starts at the very highest levels of management. In addition, it's useful to remember that promoting gender diversity goes beyond simply hiring a member of a certain group. Employers need to develop an appreciation of the diverse viewpoints and life experiences that their employees offer.

Once the baseline of diversity initiatives has been developed and implemented, consistent training should be provided to help employees gain a better understanding of the complex issues surrounding this topic. Comprehensive training can help employers remove any unconscious bias that may be present within a company, and which may negatively impact recruitment.

Above all else, it's essential to approach the topic of gender diversity in the workplace with an open mind. Companies can gain invaluable insights by listening to employees' input during meetings, internal surveys, focus groups, and exit interviews. This knowledge can help companies build a stronger and more diverse culture, and can help pave the way for reformed processes and policies that can help women advance within the organization.
"Neutral"ize Company Recruitment Practices
Gender disparity can often occur before any hiring has taken place, as a result of unconscious bias during the recruitment process.

To mitigate diversity issues caused by unconscious bias, try beginning the hiring process by posting gender neutral job descriptions. Simply providing a checklist of required skills may cause the applicant pool to be skewed towards a specific gender, as it's been shown that women will only apply for a position if they meet 100 percent of the qualifications (whereas men will apply if they're 60 percent qualified). Instead, employers should develop descriptions that are results-driven and performance-based, in order to appeal to a wider range of potential applicants.

Adding blind hiring practices to the recruitment and selection process can also help eliminate unconscious bias. Blind hiring means that candidate names are removed from resumes during initial screening. This helps hiring managers focus on other elements such as education and experience, rather than the applicant's name, which can often identify a candidate's gender and background.

Another way to promote gender equality during the recruitment process is to select a diverse group of interviewers that includes both men and women. TPD hires diverse recruitment teams because a diverse interview panel will not only provide differing perspectives that can help eliminate bias and improve understanding during an interview, but it can also make candidates from underrepresented groups feel more comfortable during the interview phase.
Provide Educational Opportunities
Promoting gender equality in the workplace doesn't end with revamping the recruitment process. In order to combat the "broken rung," it's important for employers to implement initiatives that encourage advancement from within.

For instance, mentorship or shadowing opportunities can help break down barriers and provide employees with more insight into other roles within an organization. At TPD, we offer a special program for high-performing employees called Rocketz, which is designed to provide mentorship and coaching. As a result, most of the senior and executive management roles at TPD are comprised of women who have had very different career paths, because TPD is committed to promoting women and accommodating their varying career goals.

Another way employers can encourage career advancement is by providing educational resources such as an annual education allowance. This will give employees the chance to further develop the skills and knowledge needed to help them excel in their career, and provide the company with a broader range of skills and experience to draw from.

Additionally, companies should review their current compensation practices to look for any overarching discrepancies in pay for different genders in similar roles. A formal employee compensation strategy can help employers set fair pay based on each employee's experience, skills, education, and performance. Developing an equitable and transparent compensation strategy also makes it clear to employees how they can earn salary increases and promotions.
The Benefits of Gender Diversity in the Workplace
When gender diversity is deeply ingrained in an organization's culture and values, the benefits are undeniable.

Repairing the "broken rung" for women in the career advancement ladder can make a material difference to the way an organization operates. For example, gender diversity can provide access to a greater variety of perspectives, which contributes to more efficient decision-making, problem-solving, and improved collaboration. Creating a diverse and inclusive workforce can also help employers build a positive reputation, which can go a long way towards deepening the talent pool for future positions, making it easier for a company to grow with top talent. All of which has a positive impact on morale, productivity, and ultimately, the success of an organization.

For assistance with developing strategies that can foster a strong culture of gender diversity in the workplace, feel free to get in touch with the experts at TPD. You can reach us here, or by phone at 1.888.685.3530.