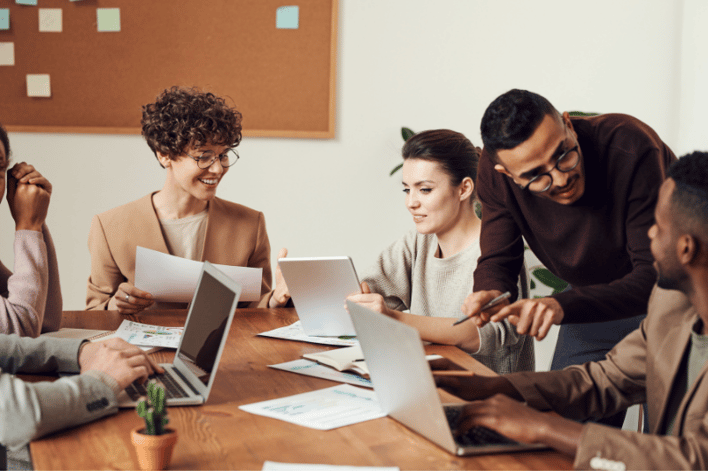 According to research conducted by Deloitte, diverse teams generate 30% more revenue per employee and are:
Six times more likely to innovate

Six times better at anticipating and responding effectively to change

Twice as likely to meet or exceed financial goals
Building a diverse and inclusive workforce requires commitment and resources. The following funding opportunities offer financial support for hiring and attracting diverse talent.
Programs for employing indigenous talent:
In light of recent tragic news about the discovery at a Kamloops, B.C. residential school, we at TPD acknowledge that we, as Canadians, have a responsibility to learn and commit to creating equity, diversity, and inclusion in our workplace and communities. With deep respect to the Tk'emlúps te Secwépemc First Nation and all First Nation groups within Canada, we highlight the following grants focused on creating opportunities for indigenous peoples.
The Housing Internship for Indigenous Youth (HIIY) program provides financial assistance to help businesses and organizations create housing-related internships for Indigenous youth. These internships can provide youth with much-needed work experience and on-the-job training.
Eligible Employers
Both Indigenous and Non-Indigenous organizations, in public, private and not-for-profit sectors may be eligible provided they are seeking to employ Indigenous youth in a qualifying position.
Qualifying positions include Housing administration, Maintenance, Construction, Tenant relations… And more!
As a program sponsor, the employer must:


Provide on-the-job training, coaching, and mentoring, and support additional training and skill development.
Provide financial and/ or social support to help youth trainees overcome barriers to a successful internship experience (for instance, by covering travel or accommodation costs).
Cover the cost of administration related to the position, including office space, tools, technology and safety equipment.
Hire the trainee for a minimum of 8 weeks, up to a maximum of 2 years (Approval of year 2 of the internship is subject to available funding)
Eligible Candidates
Youth between the ages of 15 and 30 inclusive.
Youth must not be receiving Employment Insurance while they participate in the HIIY program. If they are already receiving Employment Insurance benefits, they must agree to discontinue them before starting the internship. Interns cannot be employed elsewhere during the internship.
How to apply: Reach out to your local CMHC representative
In partnership with Community Futures Treaty Seven (CFT7), Aboriginal Futures offers a Wage Subsidy program intended to assist First Nations and Inuit people who live in Calgary and the surrounding area secure employment.
The amount and length of time for which the wage subsidy is provided is dependent on the needs of the individual and the employer and the extent of the training required.
Eligible Employers
Employers who provide work experience with the intent to hire the individual on a full-time basis upon completion of the subsidy.
The position offered should be full-time, 30 to 40 hours per week. Applications proposing part-time employment for the disabled are also eligible.
Eligible Candidates
First Nation (Treaty Status) members residing in an urban Calgary area
Possess marketable employment skills but are having difficulty obtaining employment due to lack of work experience. (Typically, job seekers who apply for this program have completed some form of accredited skills training and have not had a work history in that area.)
Unemployed at the time of application and actively on Employment Insurance and/or Employment Insurance Reachback
Completed a career development practitioner assessment at Aboriginal Futures as part of the recruitment process
How to apply: Make an appointment with a career development practitioner
Programs for employing people with disabilities:
TruckingHR is a national, non-profit organization, advancing modern HR solutions for the trucking and logistics workforce. TruckingHR Canada's wage subsidy program provides a financial incentive of up to 50% of employee's salaries (to a maximum of $15,000 per employee) to employers looking to reduce their financial risks in hiring persons with disabilities. TruckingHR also provides onboarding, coaching, and mentoring resources, as well as support throughout the work placement period and ongoing.
Eligible Employers
Offer full-time employment to persons with disability
Work with the prospective employee to provide reasonable workplace accommodations.
Deploy an effective onboarding, coaching, and mentoring framework to support employee success. Employers will be encouraged to use, and/or adapt materials developed by TruckingHR Canada.
TruckingHR Canada shall periodically request feedback from the employers and participants to evaluate the job placement, and the coaching and mentoring resources
Employers will be required to submit evidence of salaries remitted to the participants (pay stubs), to get reimbursed
Eligible Candidates
Currently Underemployed

Working less than an average of 20 hours per week
Actively seeking employment or increased employment
In receipt of a notice of imminent lay-off, or forced from current occupation due to medical reasons

Living with a self-declared disability (no medical verification is required)

Self-identifies as having a permanent physical or mental disability
How to apply: Contact Anthonia Ani at 613-244-4800 or theteam@truckinghr.com
The Wage Subsidy program provides financial reimbursement to employers who want to hire and train eligible job seekers with disabilities. The Work Experience or Wage Subsidy agreement durations and subsidies will be negotiated based on the skills development required.
Eligible Employers:
Businesses registered with Canada Revenue Agency (GST # required) and WCB (Worksafe Account # required) that have been in business for over 1 year.
Offer the likelihood of ongoing long-term employment upon completion of the wage subsidy.
Eligible Candidates:
Have a self-disclosed disability or chronic health condition
Are unemployed or underemployed
Are eligible to work in Canada
Are ineligible for Employment Insurance programs and services
Reside in the Lower Mainland, Fraser Valley, Sea to Sky Corridor, or Sunshine Coast
How to apply: Submit Employer Application form
Achieving diversity can be far more difficult than expected, but our team knows how to make it easier for you. Reach out to us today to have our team of diverse recruiters help you find the right candidates for your organization.

Contact Us!
Filed under Hiring