Consumer Choice Award Has Named The Personnel Department Winner of Best Employment Agency in Vancouver
Vancouver, Canada, December 20th 2012 - Throughout the last 32 years in business, The Personnel Department has built relationships with business owners, managers, HR professionals and thousands of skilled job seekers. As a result, they reliably connect and keep the right people with right companies, and provide an unparalleled guarantee to give clients complete confidence in their services.
In addition to providing Recruiting and Staffing Employment Services, The Personnel Department provides an array of HR Solutions. From skill assessments and performance benchmarking to payroll processing and HR technology systems, The Personnel Department's comprehensive service lines provide customized solutions to meet clients' unique needs.
The company's delivery is anchored on client centricity and process excellence. By focusing on what is important to their clients and driving relentless discipline in their execution, The Personnel Department ensures that the services they deliver will enable organization to perform.
In recognition of continued business excellence, The Personnel Department has been named the Consumer Choice Award Winner of Best Employment Agency in Vancouver for 12th consecutive year.
In each surveyed city across Canada, Consumer Choice Award recipients, dignitaries and guests of honour attend an annual gala event. Representatives of The Personnel Department attended the gala, held at the Vancouver Convention Centre on December 13th, to receive the award and congratulate the winners of the other categories.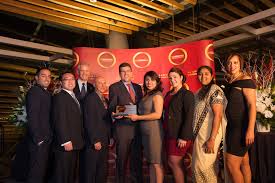 About the Consumer Choice Award:
Recognizing business excellence, the Consumer Choice Award, in partnership with a third party research firm, gathers the opinions, perceptions and expectations through the responses of thousands of consumers and businesses.
Established in 1987, the Consumer Choice Award selection process has been perfected with a third party research firm to ensure that only the most outstanding service providers are the winners within an industry. Read more about the Consumer Choice Award on their website.
Filed under TPD PR/News